If you were to tell me in April of 2012 that my YouTube channel would grow to over 133,000 subscribers and gain beyond 13 million lifetime views, I'd assume that "April Fools" would be the next thing out of your mouth. Yet, here we are – the channel has reached exactly the metrics I've just mentioned. Now, it's time to push this channel to the next level. I'm dubbing the upcoming new iteration of the channel "Version 3.0". This new version will be designed to give you more of of what you love, and re-align the content to what the Linux community wants most. And you can help shape it.
But wait a minute, "version 3.0"? What ever happened to "version 2.0"? Or even "1.0" for that matter? Well, I've never been too vocal about the changes behind the scenes, so you're not missing anything. I intend to be much more public about design changes going forward. But here's a quick history lesson.

Version 0
The account for the YouTube channel opened around June of 2011, but the first video was uploaded around April 1st of 2012. This is the same year that everyone thought the Mayans predicted would be the end of the world. And considering my first ever video was uploaded around April Fools Day, it seems like I'd be bound for bad luck, doesn't it? Well, the channel has had tremendous success, and to think it all started with a video where I showed off a custom-built emulator PC (the early videos were really bad in quality). After that, I slowly gravitated into tutorials and Linux distro reviews, even though they were recorded on a $15 microphone plugged into a used Dell Latitude D630 I purchased from a local flea market for $150. Poor video and audio quality aside, this was version 0.
Version 1.0
The low-quality videos continued for six years. And oddly enough, the channel saw some decent views and subscribers. Nothing amazing, but still somewhat impressive. At the end of 2018, I felt as though the channel had amazing potential, and I decided to put some serious work into it, for the first time. That's not to say that I didn't work hard on it before, but I wanted to build some structure. I wanted to try to get the audio quality and video quality up to somewhat decent levels. My goal was also to have different camera angles, and to start editing videos to make them more professional. All previous videos were done in a single take! Version 1.0, the first version where I put serious time and attention into the overall quality resulted in some very serious gains in metrics:

Version 2.0
The second iteration of the channel was less about metrics, and more about solidifying the branding while also achieving decent (and consistent) audio and video quality. There were some wins (as well as missteps) along the way, but after more than a year my goal was achieved. The audio and video quality are now decent, and branding from an actual graphic designer was introduced. at the end of version 2.0, the audio quality was upgraded again, and the entire channel moved to 4K. Although the branding and quality improvements were welcome, this iteration did not see as massive of a boost in metrics, and that's okay – it wasn't intended to. It was intended solely to build a more solid foundation onto which to build the future.
Version 3.0
Now that brings us to Version 3.0. The third iteration of LearnLinux.tv isn't final yet, but is being built right now. It's expected to debut in December 2020/January 2021, though the exact timing hasn't been decided. It will again see new branding, and the format of the videos will change as well. The new branding will be an immediate change, and the remaining changes will happen over the course of 2021. Most of the changes will happen during the first half of 2021, with ongoing refinements. There will be a sizable difference within the first month of launch, you'll definitely notice it.
So, what should you expect in the newest iteration? I can't reveal everything yet, since much is still being worked out. But I can reveal some things now, which I'll do in this post. There's actually a HUGE change coming, that will be somewhat of a shocker. Probably the biggest improvement and change the channel has ever seen in its entire history. That aspect of version 3.0 will likely happen around Spring, and I'll reveal more about it when the idea is far enough along. But for now, here's some changes to expect in the short term:
Greater focus on learning
When the channel was re-branded "LearnLinux.tv", there was a very specific reason for that – I want to help everyone Learn Linux. There's been a mix of video types beyond tutorials, including (but not limited to) hardware reviews, distribution reviews, opinion videos, how to's, and more. And while I expect those types of videos will continue (at least for now), the channel will transition more toward education. This means more tutorials and sharing of knowledge. As long as the other video types continue to see strong views, I'll consider keeping them around. But the focus will be on teaching you the skills you need to be a productive member of the Linux community, whether you are a hobbyist using a distribution on your laptop, or a member of a DevOps team that uses Linux professionally.
Consistent Video Format
For each type of video I do, the goal of version 3.0 is to have a consistent layout. If you're watching tutorials, they'll all be structured the same or will at least follow some rules about how the content will be structured. All tutorials up until now were done completely ad-hoc, but the goal now is to have more structure. That's not to say that a structure will be forced on videos even when it doesn't make sense, but there are some definite rules that should be followed in each. For example, tutorials will show you how to install a tool on Linux, Windows, and macOS – to ensure you can get started learning regardless of which operating system you're coming from. The first video in a tutorial series will go over the outline for the entire series, so you'll know what's coming before it arrives. Time codes in each video (where applicable) to get you to the section that pertains to where you want to start learning, so you can get right to the section you want quickly.
Complete channel branding
The entire channel is going to be re-branded, new logo, intro, assets, you name it. It will all be refined. This will give each video a more professional look than ever before. Although the logo below is most likely not the final branding that will be used, it will give you an idea what direction the branding is going. The brand will attempt to capture the "education" aspect of the channel, that was not represented before.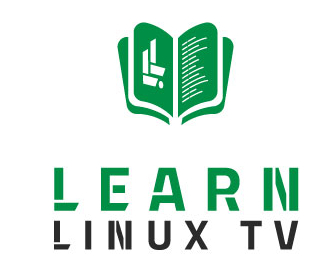 Additional focus on Enterprise Linux
Although non-enterprise Linux will still be covered and won't go away, I plan on covering the enterprise side more than before. That way, regardless of whether you're a home user or work at a big company, there will be content for you. The enterprise Linux side of the industry hasn't been covered as well, and I hope to change that with the new version.
More Content Types
Expect interviews, fun (and sometimes surprising) content ideas, and exciting topics to try to keep you entertained. Viewer feedback will help determine the direction this takes, but I have a lot of great ideas and I can't wait until you see some of the things that are coming.
More to come!
There will be more updates coming, as plans are finalized. This is very much a work in progress, and the input of viewers will shape what's to come. In fact, I have a survey available that you can fill out, which will give me an idea of the types of changes you'd like to see. After all, the success of this channel is due to my viewers, and your input is valuable as I navigate the process of reinventing LearnLinux.tv. I can't wait to read your feedback, and to share with you more news when the final outline is decided.