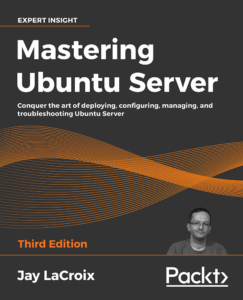 Mastering Ubuntu Server Third Edition
Ubuntu Server has taken the data centers by storm. Whether you're deploying Ubuntu for a large-scale project or for a small office, it is a stable, customizable, and powerful Linux distribution that leads the way with innovative and cutting-edge features. For both simple and complex server deployments, Ubuntu's flexible nature can be easily adapted to meet to the needs of your organization. With this book as your guide, you will learn all about Ubuntu Server, from initial deployment to creating production-ready resources for your network.
Mastering Linux Network Administration
Linux is everywhere. Whether you run a home office, a small business, or manage enterprise systems, Linux can empower your network to perform at its very best. Armed with the advanced tools and best practice guidance of this practical guide, you'll be able to mold Linux networks to your will, empowering your systems and their users to take advantage of all that Linux-based networks have to offer.Understand how Linux networks function and get to grips with essential tips and tricks to manage them – whether you're already managing a networks, or even just starting out. With Debian and CentOS as its source, this book will divulge all the details you need to manage a real Linux-based network. With detailed activities and instructions based on real-world scenarios, this book will be your guide to the exciting world of Linux networking.
Linux Mint Essentials
This is an all-inclusive guide to Linux Mint, and will teach you everything you need to know in order to use a Linux Mint system. The book starts with the installation process and covers task-oriented topics such as browsing the Internet and installing software as well as shell commands. This guide walks the reader through installing and maintaining Linux Mint on a personal computer.Using task-oriented examples, readers will journey through understanding what sets Mint apart from the competition, how to maintain it, and how to use it. Topics covered in the book include getting acquainted with Cinnamon, navigating the filesystem, software management, an introduction to the terminal, and more!